spring

Season

summer

Season
Our Spring, Creative Explorations season is designed to help kids strengthen their natural creativity. We'll activate our imaginations and practice the building blocks of creativity as we break, bend and blend objects found in the most creative studio of all—nature.
Live sessions, weeks of Apr 4 - May 30

Weekly Leader-led classes + additional resources

1.5 - 8 years

At Home and In Person formats available
See Which Classes and Free Trials Are Available in Your Area
Join the fun and learning in either of our formats.
%>
What We Will Learn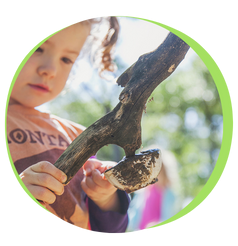 Unit 1 (Weeks 1-4): Building Blocks
In our first unit, we'll kick off a season-long celebration of divergent thinking—a key part of creativity. We'll also practice three core creative actions: breaking, bending and blending.
See Sample Lesson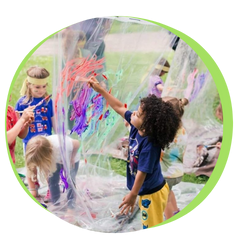 Unit 2 (Weeks 5-7): Nature Art
In Unit 2, we'll use our core creative actions to express ourselves using the colors and objects found in the most creative studio of all—nature in springtime.
See Sample Lesson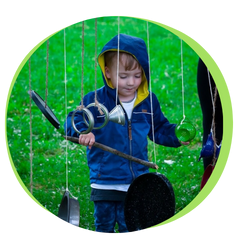 Unit 3 (Weeks 8-9): Moovin' & Groovin'
We'll wrap up the Creativity Season with celebrations of sound and movement that help us express our joy and activate all of our senses.
See Sample Lesson
Everything our kids learn is filtered through their senses, and each child has a unique sensory system. This Summer, our Seven Senses curriculum is designed to help each child strengthen and balance their senses in the most stimulating and soothing classroom of all—the great outdoors.
Various start dates from June 27 through July 25, 2022

Leader-led live classes, at-home resources, and on-demand lessons

Live sessions meet 1, 2 or 3 times per week

1.5 - 8 years

At Home and In Person formats available
See Which Classes and Free Trials Are Available in Your Area
Join the fun and learning in either of our formats.
%>
What We Will Learn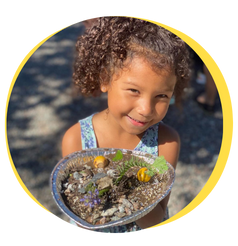 Unit 1 (Weeks 1-4) The "Famous Five"
We'll kick off our Seven Senses season by awakening our most famous five senses—sight, hearing, taste, sound, and of course touch! We'll explore mud, follow our noses, create with colorful pigments and explore the sounds of our tiny friends.
See Sample Lesson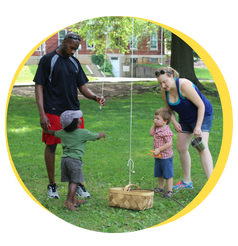 Unit 2 (Weeks 5-7): "Hidden" Senses
Our next unit will help explorers and guides alike learn about sensory integration and two essential "hidden" senses like our vestibular systems and sense of proprioception. And we'll do it all as we playfully wonder, "What color is the wind?", experiment with pulleys, and spin, stomp or roll our way through imaginative obstacles.
See Sample Lesson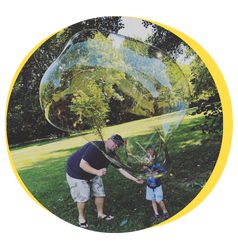 Unit 3 (Weeks 8-9): Sense the Joy!
We'll wrap up with two most special lessons designed to activate multiple senses and teach us all the power of joy—bubble play and silly, fun ways to keep our cool, even when the summer heat gets high. These lessons also give us the perfect segue to our Fall focus—Wellness
See Sample Lesson
How It Works

Our play-based outdoor curriculum guides parents on how to support an active, engaging, outdoor learning lifestyle for their family. Through live sessions led by Tinkergarten Leaders and on-demand, self-guided activities, we make purposeful, outdoor play doable for every family.

9 expert-led live sessions + 3 weeks of content

Weekly resources to support playful learning at home

Tools to track your child's progress

Vibrant local and national parent community

Learn from Expert Leaders

Each week, your child's live instruction and community connection will be facilitated by one of our dynamic Tinkergarten Leaders.

Kari was a very friendly and interactive teacher, it can't be easy to wrangle young kids virtually. And my daughter absolutely loved making her happiness potion. She told her father about it the second she saw him.

The teacher was awesome and made us feel very welcome. My son was super nervous about class and she made him feel comfortable right away. He can't wait to go back!

We love the program, and the ideas of activities to do during the week.

The class was wonderful, it was pleasant, laid back, and very inviting! The activities were age-appropriate, and my very shy daughter ended up really coming out of her shell!

We love it. The class is great! Wouldn't change a thing.

A wonderful experience better than we even hoped for! Looking forward to next week; Kay was extremely welcoming and did a phenomenal job of integrating such a wide spectrum of ages. Families are so wonderful and the children are Super engaged. Wonderful mix of songs, movement, exploration and information.

Very engaging. Fun activities. Very age appropriate and hands on. I feel like each week the class just keeps getting better and better.

I am a better parent because of this organization! I've brought all 3 of my babies up with Tinkergarten.

Hannah! She's so engaging and she's able to engage my 2-year-old, who doesn't sit still for anything! This past week, my 2-year-old has been showcasing what she's learned by asking if we are sad, happy, mad. Blown away she understands these concepts!

Kaari is so high-energy/positive and great at reminding the kids what they already learned and also at staying on track with the lesson. I have two preschoolers and that last part feels impossible for me most days.

Absolutely loved it...and my three-year-old loves Lissa! Lissa is completely engaged with the children, and the variance in age allowed for the little ones to learn from the biggies. Great class with aloha!

We have been struggling with how to handle some big emotions lately, and using body movement is something I hadn't thought about before. I'm looking forward to trying it out! Also play is such a great way to introduce a topic like that. Also, we just had so much fun with the puppets. Tinkergarten always delivers on new play ideas and tools to help in everyday life.

Just great flow, pacing, energy, balance, seeing other kids, seeing Jenna, the songs, the visuals, etc. Technology and resources and planning all are working smoothly to give a great experience.

My son is always excited to see what Katie has planned for the session, and the things they do inspire him to try new or related things the rest of the day/week. Katie makes things fun, engaging, and interactive.

Madelyn always notices and acknowledges every explorer—my child really loves interacting with her. This lesson was so fun—loved acting like chimpanzees and making all kinds of faces. Love that it is okay that my child didn't want to touch the mud today. She was still able to participate fully and had a wonderful experience!

Ms Jamie keeps everything so light and fun. It's a no pressure environment thanks to her, which makes my children more comfortable expressing themselves!

My boys came home excited and asking when the next class was!!! As a parent it made me very happy to be back in an in-person setting for Tinkergarten! It was so refreshing to see kids out in nature exploring TOGETHER in our "new normal!" Thank you for bringing it back.

Leader was warm and knowledgeable. Love that the weekly Zoom class is just one aspect of the broader curriculum. Also appreciated that she gave guidance that it was okay to play in whatever way the child chooses, no need to make them stay on topic or keep their body still - that's super stressful as a parent!

FAQs

What if we will miss sessions of Tinkergarten due to travel or other commitments?

We understand that families, especially those with young explorers, have to miss live sessions of Tinkergarten from time to time — and especially in the summer season! That's why we offer flexible ways to keep Tinkergarten in your family's routine.

Stream any class, anywhere: Every enrolled family has access to wonderful pre-recorded Tinkergarten classes within their My Tinkergarten dashboard (watch a sample). Since you can watch from any connected device, whenever you like, you never have to miss a lesson.
Summer 2022 Flex Policy: As many families return to pre-pandemic summer schedules, we're offering additional flexibility for families with existing scheduling conflicts. Families enrolled in the Summer 2022 season can request an account credit for up to two missed summer sessions. Read more about our In-Person program policies here.

What are Tinkergarten's in-person classes like?

Tinkergarten classes follow a predictable structure designed to build a strong sense of community, connect participants to nature, and introduce lessons that support our 8 core skills. You can read more about them in this article or sign up for a free trial to see for yourself!


How will Tinkergarten approach safety for in-person programming this spring & summer?

Our approach to safety in all of our in-person Tinkergarten programming is informed by CDC guidance, has been tested for multiple seasons, and aims to ensure that everyone has as engaged, joyful, and safe an experience as possible. Read about our safety approach here.

What age group does Tinkergarten serve?

Our program is designed for children ages 18 months to 8 years old. Leaders take time to get to know each child and adapt our approach to best fit the child's interests, strengths and needs. In our At Home (digital) classes, to make sure that the live session and additional resources are as engaging as possible, we also tailor our program towards two different age groups: 2 to 5 and 5 to 8. Read more here about how the classes differ by age group.


Are Tinkergarten classes held outside?

Yes, all of Tinkergarten's In-Person programs take place in delightful, outdoor settings. As part of the program, families receive coaching on both the gear and the mindset that make outdoor play fun, healthy and joyful all year long.

In the rare case that weather conditions are unsafe at the time of your live session (e.g. lightning, too cold), your Leader will either reschedule your in-person class session or will welcome you to utilize the pre-recorded class content and resources while you play safely at home.

Are masks required?

As is stated in our approach to health and safety, Tinkergarten does not require that attendees wear masks. We do recommend wearing face masks for people who are not vaccinated, over the age of two and are not otherwise exempted from wearing masks. In some cases, the location at which Tinkergarten class meets does require attendees to wear masks. Before your class starts, we will clearly communicate by email and on our My Tinkergarten (parent dashboard) if there is a mask requirement at your location.


Can siblings join in the fun?

Yes! Our mixed-aged classes are the perfect experience to enjoy with siblings. Siblings under 12 months of age may join at no cost. Siblings over one year should enroll in the class, and a 25% sibling discount is automatically applied at checkout.


What do families bring to Tinkergarten In Person classes?

Leaders set up the outdoor classroom each week, so families just need to bring water bottles and seasonally appropriate layers. Read more about how to dress for outdoor learning here. To help you plan, enrolled families can also download a Season Program Overview from their My Tinkergarten (parent dashboard). The Overview includes a preview of the learning you'll be doing each week!

What additional resources are included with Tinkergarten?

Each week, in addition the live session, families are given access to: at-home activities which build on the live lesson; a video read-aloud of a related book-of-the-week; a pre-recorded class session; and a "Just for Grown Ups" video or article designed to help parents and caregivers facilitate their kiddos' play at home (and laugh a little, too).

What happens in inclement weather?

We love to play in (nearly) all weather at Tinkergarten. But, in the case of unsafe weather, your Leader will update families at least 90 minutes prior to class by email and text message. Families will either be offered an alternative time to meet during the same season or will be welcome to utilize the prerecorded lesson content available in their My Tinkergarten (parent dashboard). If more than 2 sessions need to be canceled, families will be eligible for a refund for those additional sessions. Read all of our in-person class policies here.


How can I find out if there are in-person classes near me?

Click here and enter your zip code at the top to see if classes are available in your area. We'll continue to expand our reach in seasons to come.


What if there are no in-person classes near me?

Join our Tinkergarten At Home program! All you need is a connected device to participate in live, online sessions any day of the week. Classes are led by an expert Tinkergarten Leader, and you'll receive resources to continue the outdoor play all week long. You can also nominate someone in your community who would make a great Tinkergarten Leader (or apply yourself!).

Please note that we gradually expand our in-person classes each season, and will continue to expand our reach in seasons to come.


How can I learn more about the current or upcoming season curricula?

You can click here to view sample activities. Be sure to toggle to see samples from each season. Or, visit our Curriculum page to download samples of the Curriculum Overviews we provide to parents or Season Maps that kids can use to track their progress through each unique seasonal curriculum.

Can families request financial support to participate in Tinkergarten?

Yes! Families can apply for 50% or 100% off the cost of one child's full season fee in either format, At Home or In Person, via tinkergarten.com/grant. The online application takes under 1 minute to complete and includes no ask for financial information—if a family takes the time to apply, they qualify for our support. We reserve 3% of all spots in our classes nationwide to award as grants and award them on a first-come-first-served basis. Once you apply, you should hear back from our team within one week. If a grant is still available when you apply, we will send you a code to receive the grant when you register.

If you need any assistance or have questions, please write to us at support@tinkergarten.com.


Who must accompany my child to Tinkergarten In Person sessions?

Tinkergarten In-Person sessions are designed for grown-ups and child(ren) to experience together. To provide for the safety of all enrolled, children attend along with an adult from their own household or pod.


Why is outdoor learning important?

What is the Tinkergarten At Home program like?

Tinkergarten At Home combines a live, online session facilitated by a certified (and amazing) Tinkergarten Leader with additional resources that parents and caregivers can use to keep kids playing and learning outdoors all week long. The program, which is designed by education experts, engages children in play-based activities that foster a sense of joy and wonder, all while developing essential skills.

Each live session follows a structure that includes community building, songs, movement, learning about nature, guided play time, and a closing community share time. We also have tools families can use to upload photos of the play that continues at home between live class sessions so Leaders and the whole class community can celebrate your child and family's play!

Every Tinkergarten lesson is designed to inspire open-ended exploration and play through which kids actively engage in imagining, exploring, and/or problem solving.

While each lesson is designed by Tinkergarten and guided by a trained Leader, the children decide how to play in response to the lesson's play scenario, and the children's interests play the leading role in shaping the way play unfolds. To kids, it's pure and joyful fun.


What are the class policies?