"All the sounds of the earth are like music."

—Oscar Hammerstein
We all have a favored sense (...or two or three). What the favorite is may shift at different times in our lives, but at any given moment, there tend to be one or two that feel most significant to us. For me, they are sound and smell. Smell is so evocative of a mood, a memory, a time and a place; it can transport me right back to a specific moment. Though sound has a slightly different effect on me, I find it to be equally powerful.
There's no question that music activates the memory and evokes an emotional response from all of us. But whether or not they form music, discrete sounds also have an emotional impact. Just think about the chatter you heard from your childhood bed while your parents talked or maybe even threw a party, the erratic drip of raindrops as a big storm is ending, or he crunch of a just-right size leaf pile under your feet. All of these sounds come with some emotional connotations, so they truly resonate with me, and likely resonate with you too.
We can also make our own sounds, and that's when the joy and wildness really start to flow. Open-ended sound-making, using the objects around us, is a wonderful way for us and our children to strengthen creativity — especially when we do it in the sensory-rich world of outdoors. Some sounds will become music, while some will just remain sounds, and that's okay, too. Where sound ends and music begins is truly up to us and our kids as we play with the intersection of the two experiences.
Sound play
Whether or not sound is one of your dominant senses, sound play offers a wonderful opportunity to focus in on it and experience the magic that comes when sound hits our bodies. This week, our featured leader, Bernadette McGee led her own kids in sound play and then shared this charming observation about her daughter's process:
"My daughter used a branch, hitting different-sized clay pots and admiring how each pot made a different sound when she hit it. She actually ended up making a little rhythm once she figured out the different sounds. She impressed me! She used the branch to experiment with more sounds throughout the time we were playing outside, finding different objects, hitting them to see the sounds that they made. She banged against trees, rocks, and a bird feeder that has a landing piece, similar to a cymbal. Her branch of leaves was always a part of her experience, I think to compare sounds, or maybe adding in a special sound that she liked to the different sounds she was making with other things."
This week's activities
For this week's challenge, we'll be exploring the different sounds we can hear, we can create, and we can combine, while we play.
In 'Make Music Like Wee Wild Things', we present kids with a variety of different sound-making materials, like rubber bands and buckets. Then we let them loose in a sound playground — a park, garden, or other outdoor area — to see what they come up with.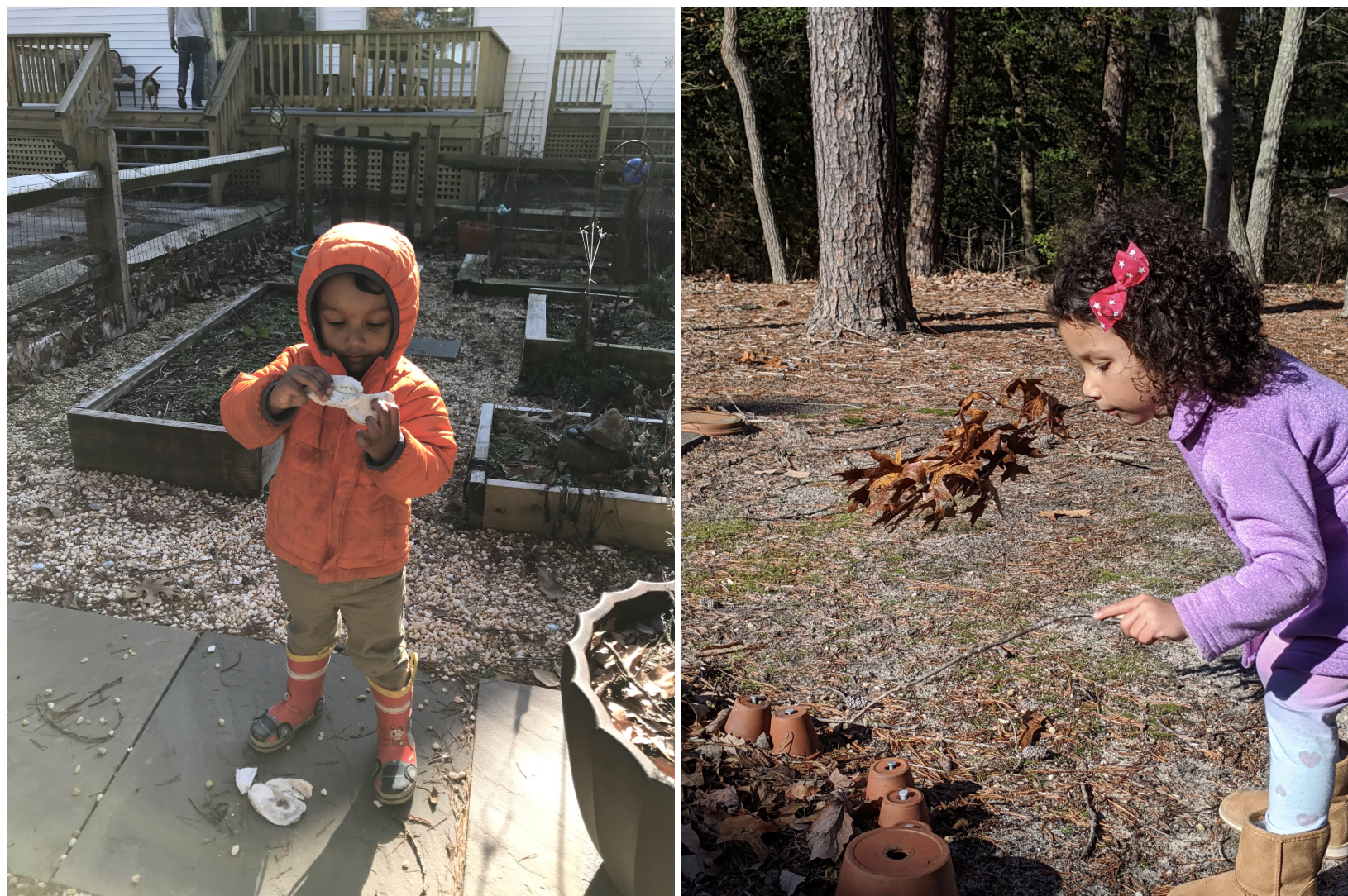 In 'A Winter Howling,' the whole family can join in on a winter night's listening walk with the chance to howl their own, unique howls.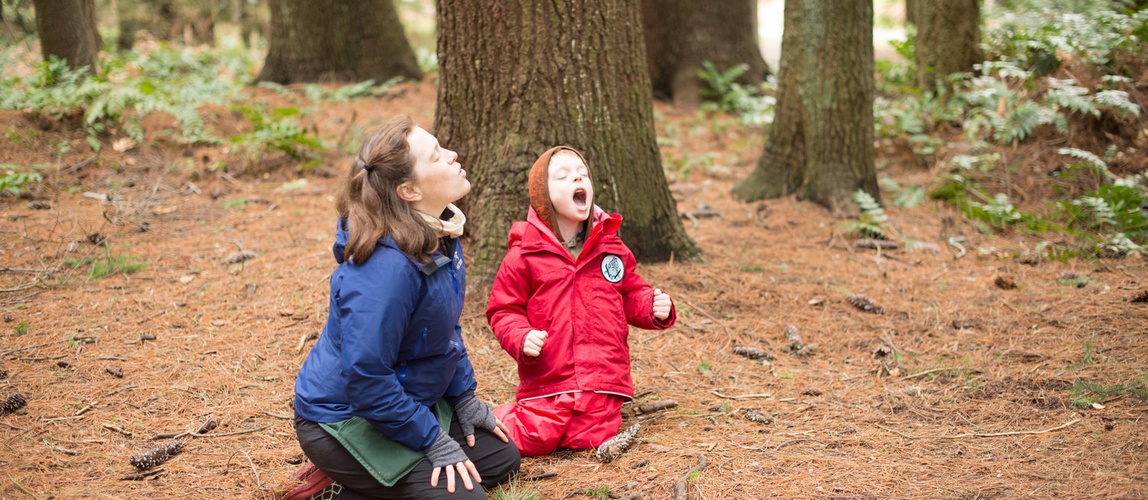 In 'Hide and Sound', kids play 'Hide and Seek' using sound clues to discover the 'hider.'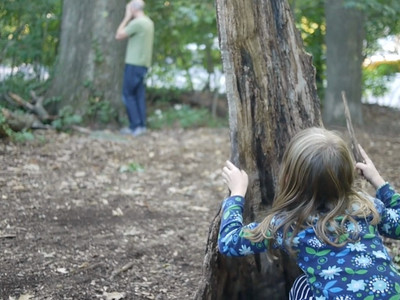 #OutdoorsAll4
If you haven't pledged to play #OutdoorsAll4 seasons yet, visit tinkergarten.com/outdoorsall4, take the pledge and we'll send fun coloring sheets to track your progress, as well as weekly activity ideas like these, right to your inbox!
This week's featured leader
Bernadette McGee // Richmond, VA // @bemarie11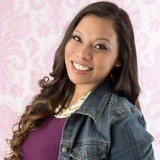 Bernadette understands that play and having a loved one there to experience that play with them is so important for young minds and she is so glad that she can facilitate growth in children and families in a positive way. And she loves the added benefit of getting to do that in nature. She feels at home when she is outside, soaking in the world, and hopes she exudes that love to all of her Tinkergarten families to help in developing their children's essential life skills, and lifelong childhood memories as well.