Nearly all experts in early learning and child development agree that play is critical to children's social and emotional, cognitive and physical development. Psychologist, Bob Hughes even equates play to "the behavioral equivalent to oxygen."
"Nearly all developmental psychologists, neuroscientists and education experts recommend play for kids 0-7 as the best way to nurture kids' development and ready them for success later in life."—Scientific American
In spite of this widespread agreement on play, there is real discord around which type of play is best for kids. Competing trends focused on adult support of children's learning vs. those focused on wild, exploratory play are causing what expert, Kathy Hirsh-Pasek calls "a false dichotomy" in early learning. Is there really only one type of play that is pure and beneficial to kids?
The call for Free Play
Understandably, cries to focus on free play—unstructured time for children to play without adult intervention—are particularly loud and impassioned these days. And they should be; children have lost 8 or more hours per week of free play time in recent decades, and kids' outdoor play time estimated at less than half of what their parents had in the 1980s. Meanwhile, screen time has increased to 7.5 hours per day by age 8.
Children benefit tremendously from unsupervised free play, gaining chances to pursue ideas and interests, iterate on prior play experiences, connect with peers, learn to resolve conflicts and understand one another's needs. Free play also supports the development of critical skills like creativity, persistence and problem solving. The research mounts, and in a world in which children's lives are increasingly scheduled and chances for play in schools are diminished, we should be unified around restoring time for free play in our children's lives.
The benefits of Guided Play
However, free play is not the only type of play to benefit children and their development. A recent research review conducted by leading experts in early learning and play presents play on a continuum that includes both unsupervised, free play and adult-supported guided play. Guided play is play in which an adult—parent, caregiver or educator—has identified goals or learning opportunities and set up a play environment designed to help kids to work towards those goals. Children still choose what to do in response to this environment and direct their own play, while the adult is there to support children along the way.
Guided play takes advantage of children's natural abilities to learn through play by allowing them to express their autonomy within a prepared environment and with adult scaffolding.—Kathy Hirsh-Pasek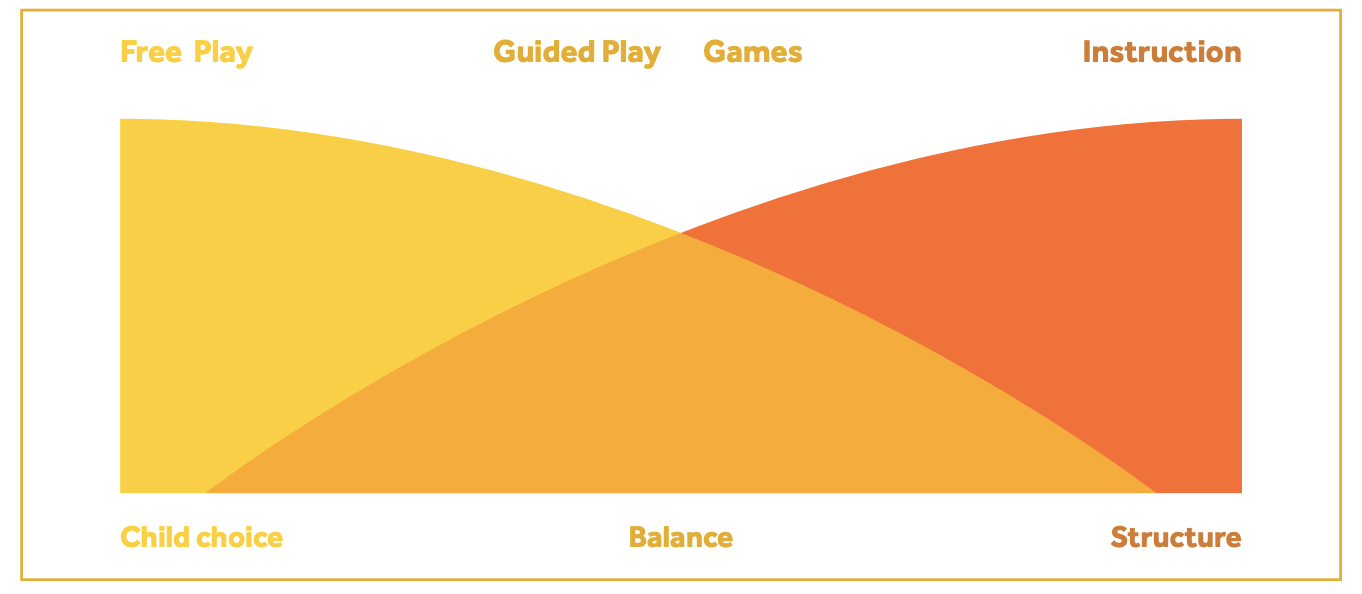 © LEGO Foundation
Guided play has been shown to increase the learning outcomes in many domains. Plus, guided play is a chance for adults to bring into the play environment props, stories and situations that deepen, broaden and build upon a child's interests. The adult never directs the play, but responds and supports in a way that helps to scaffold children in learning.
Guided play also offers a natural and powerful way for adults and children to engage in responsive exchanges, listening to and building on one another's ideas during play. We know that parents are children's most powerful teachers. Guided play offers a beautiful way to play that role, to know your child better and to make them feel known and valued!
It's not either/or...it's both!
In my experience teaching reading, it never seemed controversial to me that my students learned best given a healthy mix of my expert guidance and plenty of time to practice on their own. The strength-training class you take once per week at the gym alone will not get you in tip-top shape, but you'll improve much faster given a mix of that weekly class plus regular chances to practice on your own.
A better way to think about play
So, why don't we think the same way about play? A unilateral focus on either free play or guided play paints far too narrow a picture and risks throwing a valuable baby out with the bathwater. Play advocates, let's unify around an integrated approach that includes both guided and free play.
These two kinds of play are each necessary, and they support one another. We've found that when the parents and educators we work with feel both inspired and well prepared to guide play, they build more time for both guided play time and unstructured free play time into family or school routines. These adults also report enjoying greater understanding of their children as playful learners and observe that their children bring an increased repertoire of ideas to their independent play. What could be better?
What to do now?