Working with young children has taught me "the simpler, the better, " and there are few better examples of this than my favorite simple machine—the pulley. To make a pulley, all you need is a basket, a rope, and a tree limb low enough to toss the rope over. Born scientists, young children will take your makeshift pulley and explore and experiment with great delight.
Whenever I see kids get really hooked on repetitive play with a physical toy, I trust that learning is happening. What I love about repetitive pulley play is that it incorporates so many different kinds of learning, even for children just under 2. The following are six of my favorites:
Body building
Kids use big muscles like their arms and back to pull the rope and move the basket up and down, making pulley play a perfect way to build gross motor skills. Plus, succeeding at what feels like "hard work" gives kids great satisfaction and helps build self reliance.
Collaboration is natural
Even though we adults worry that young children will struggle to share something as engaging as a pulley, kids tend to prove us wrong. As soon as the pulley gets heavy, if we don't rush in to help, kids naturally work together to get that basket up—even the two year olds! They also delight in sharing their joy as they raise and release the pulley.
Teach empathy
With the right passenger and some prompting, pulleys can even help teach empathy. Bring a stuffed animal or baby doll and give her rides in the pulley. Wonder together whether she would like to go slow or fast, come down softly or enjoy a crash landing. Just considering her "feelings" helps build a foundation of empathy.
Executive function
Any effort put towards controlling the speed and movement of the pulley requires considerable focus and self-control—important executive functions that kids need to be successful learners in a formal classroom and in life.
The Trajectory Schema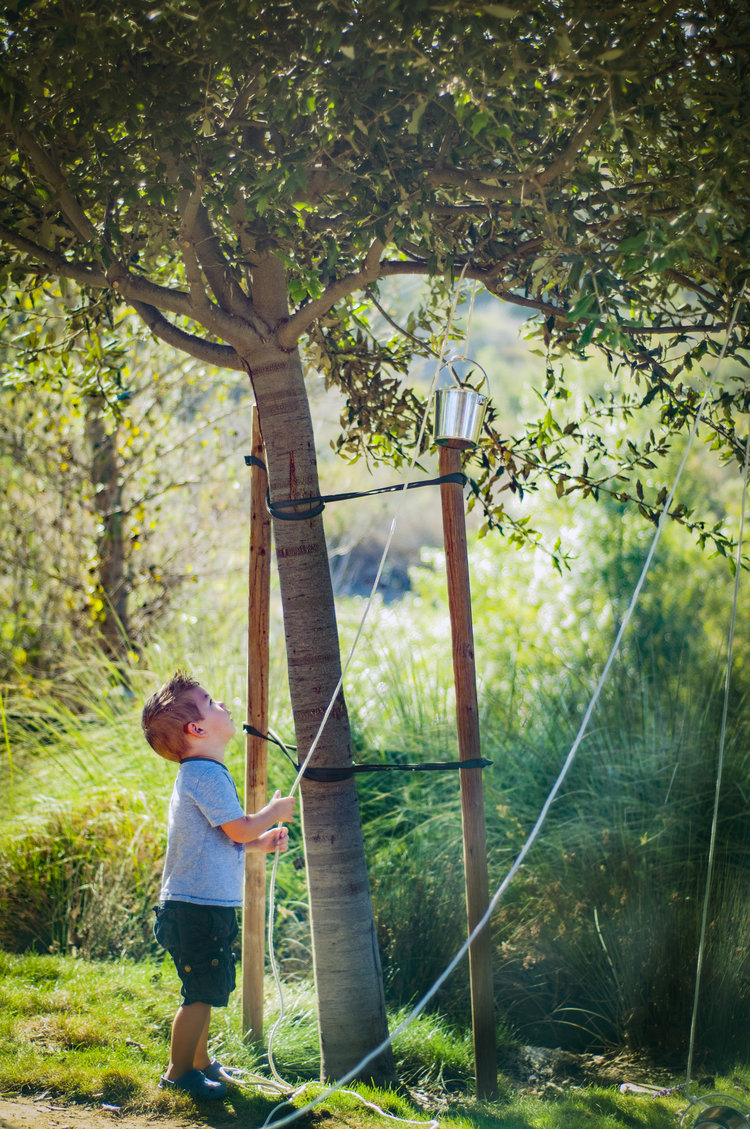 At Tinkergarten, we remain ever aware of a set of brain-boosting behaviors called "behavioral schema." Children worldwide exhibit these behaviors when they are lost in their own self-directed play (again, a state we recognize as learning). The "Trajectory" schema focuses on movement of objects in a straight line. By moving a pulley up and down, kids get the chance to activate this important schema.
STEM Starts Early
In a recent report, the folks at Joan Ganz Cooney Center, an independent research and thought leadership organization based at the beloved Sesame Workshop, remind us that toddlers and preschoolers naturally behave like scientists and engineers when they play. They also assert that even the youngest of children can and should engage in STEM learning and that early experience with these concepts predicts later interest and success in science, math and technology.
Pulleys are a simple and effective way to engage kids in early STEM learning, giving young kids the chance to play with and explore engineering ideas. This learning is enhanced when you use inquiry to support that exploration. Pulleys allow for tinkering with gravity, weight and friction and offer endless opportunities to experiment. As you play with a pulley, you and your child can wonder together, posing questions like:
What will happen if we let go? Swap baskets? Use different types of rope?
What if we put nothing in the basket? Something heavy? Something really, really heavy?
What if we stand close to the tree? What if we walk far away, and then pull?
So, grab a rope, a basket and find a nearby tree. Better yet, find a group of kids to share the pulley and the experimentation—young scientists learn even more when they work as a team. There's so much to learn!