When tea becomes ritual, it takes place at the heart of our ability to see greatness in small things. - Muriel Barbery


As part of our
October activity calendar,
we are sharing this sweet and simple way to add a sweet, cozy tea party break into a family walk or hike. Making tea together is a wonderful way to help kids learn about the health and wellness benefits of herbs and plants. The ritual of drinking tea together helps to create a moment of quiet and warmth to overcome the chill and heighten your enjoyment of time outside together. Here's how:
The Guide
Plan a walk.
Plan an outdoor adventure that makes sense for your group, given weather, distance and the ages of kids involved. Get ideas
here
.
Brew some tea.
Brew a thermos full of decaffeinated herbal tea or a warm beverage of your choice (e.g. hot cocoa, apple cider). If you have access to herbs in your outdoor space, head out with a collection container and forage for tea-making ingredients together. Foraging for cooking ingredients is a super way to help kids learn how to identify plants and herbs and connect with the flora that grows in your area. Use an app like
PlantNet
or
PictureThis
to help identify the plants as you forage. Use a mortar and pestle (or hands) to mash up the leaves, then place in a tea infuser and steep in warm water. If you do not have a tea infuser, strain the liquid after steeping to remove leaves. Some of our favorite ingredients for making tea include:
Lavender
Lemon verbena
Mint
Thyme
Chamomile
Jasmine
Rosemary
White pine
Pack a bag.
Grab your thermos or insulated water bottle full of tea, some cups, snacks and even a blanket or two.
Head outside.
Head out on your walk and activate different senses along the way. Take deep sniffs to smell the cool air. Feel the air on your cheeks. Look with your eyes and notice how your outdoor space has changed with the changing season. Stop and listen to what movement (and stillness!) you can hear.
Have a tea party!
When your hike is almost done, stop to enjoy a special treat—an outdoor tea break! To get extra cozy, wrap a blanket around each person—or snuggle up and wrap one blanket around all of you. Pour tea and nibble treats. Notice how the warm cup feels against your hands. If it is cold outside, notice the steam that rises from your cup. Take a moment to appreciate how the tea warms the body from the inside out and how good it tastes after a good outdoor walk.
Why is this activity great for kids?
The addition of warm tea into a hike on chilly day activates the sense of touch, taste and temperature—a huge sensory system win! Additionally, introducing something new and unique into an activity you do somewhat regularly heightens the investment and excitement for everyone involved. Plus, giving kids tools they can use to stay warm in colder weather is a super way to help extend outdoor time while also helping kids develop
persistence and grit
.
Try a Free Class
Two class formats: try a free In-Person session (where and when available) or try Tinkergarten Anywhere, our on-demand product available anytime.
In either format, a certified Tinkergarten Leader will teach a Tinkergarten lesson and inspire your kids to play.
Sample the additional activities and resources families get each week to keep kids learning outside at home.
Become or Recommend a Leader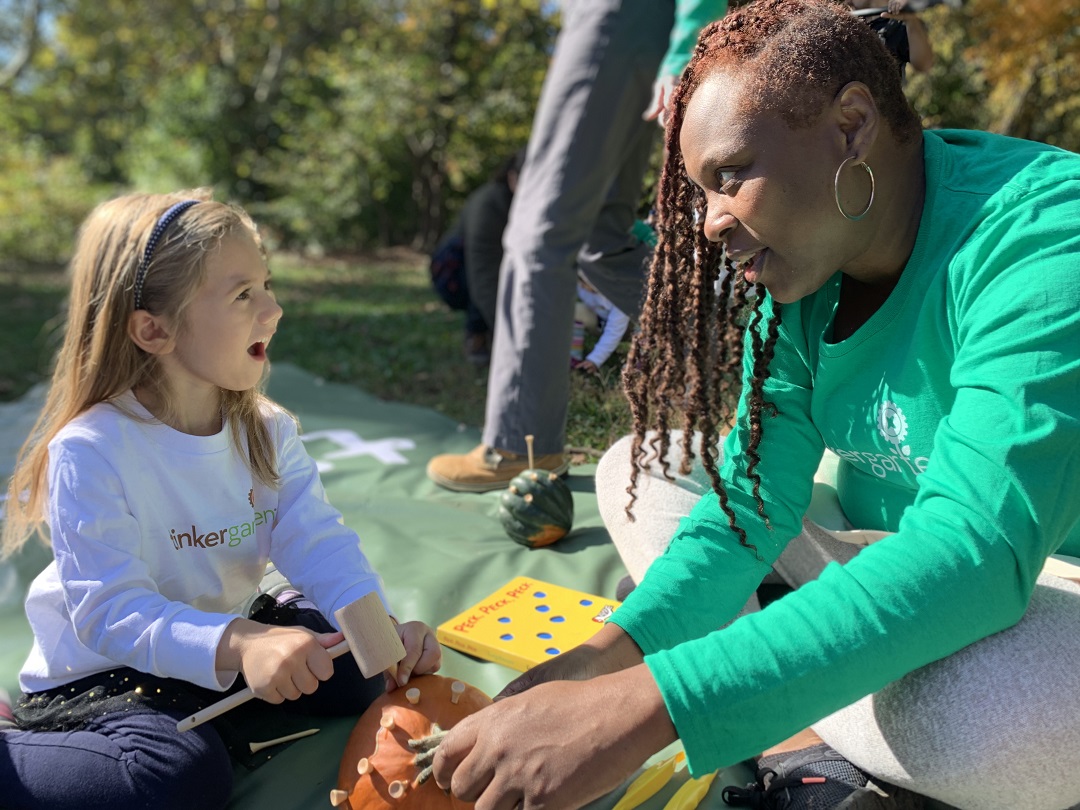 Help us bring Tinkergarten to your community.
Recommend people you think would make great Tinkergarten Leaders.
Maybe that's you!
Earn a $100 gift card to Amazon if your nominee becomes a Leader!