Stone Soup Activity for Kids
Remember the story Stone Soup? In this classic tale, hungry but clever travelers -- with nothing but stones and water -- convince reluctant villagers to contribute food toward a huge, communal pot of "stone soup." There are countless versions told across the world. No matter the version you share, Stone Soup is not only a great read, it's a perfect bridge to imaginative play.


After hearing the story, all kids need is a pot, a little water, a stone—their imagination and the nature around them will do the rest. As children prepare their soup, grass becomes carrots, pine cones turn into potatoes, sticks become ladles -- you get the idea. If there's more than one young chef, they'll get an excellent exercise in communication and collaboration. The best part? Stone soup is a recipe for imaginative play that works any time they are outdoors. With even the smallest trace of water and any container, kids will find a way to whip up batches of stone soup all on their own. Yum!


The Guide
Read or tell the story:
Whether you have a copy of the story, watch a sweet read aloud like
this version by Heather Frost
, or just want to tell a version of the story to the kids, you can start by asking, "What do you think stone soup is? Do you think you'd like to eat stone soup?" Then, watch, read or tell the story. As you go through the story, pause to ask kids what they think about what's going on. For example, "Why do you think the villagers are hiding their food?" "Do you think they will really make soup out of stones?"
Give an invitation:
When story time's over, ask kids, "How do you make stone soup? Should we try to make some?" Gently help kids recall that you need a fire, a pot, water and stones to get the soup started. Work together to make a "fire" (sticks in a pile will suffice). Produce a pot or bucket of some kind (one for every 4-6 kids, if you've got a group). Help kids fill their pails with water—they'll each get to add some water to the pot. Then, hand each kid a stone to "plop" in the pot. Once kids put their stones into the water, they're ready to make stone soup.
Gather ingredients:
Remind them that just like the people in the story, they will need to add other "foods" to make their soup "delicious." To get them started, pinch a little grass and say something like, "Ooo...we could pretend the grass is carrots. What do you think? These will make our soup even tastier." Then, add your "carrots" to the pot. Welcome kids to find more ingredients.
Cook the soup:
Give plenty of time for kids to continuing to gather ingredients as well as adding, stirring, mashing, etc. Stoke the pretend fire, adding wood as needed. Make time to sniff and pretend to taste the soup, oohing and ahhing, remarking about the color and aroma of the broth as any good chef would do.


Wrap up with a feast:
When the ingredient hunt slows down, transfer the pot onto a "fire" and let it simmer while you play. Children can help stir the pot or set a "table" with sticks, leaves, and other "utensils." Pretend to sip and savor the soup (but don't let them actually eat any, of course). When finished, dump out the remaining soup and remind kids that all of their ingredients will go back into the soil, which will help make more yummy ingredients for future soups!
Why is this activity great for kids?
Many of the physical tasks involved in Stone Soup making (such as gathering, stirring, and transforming) give kids the opportunity to practice
behavioral schema
—making this a universal and developmentally enriching activity for kids. Cooking together in a communal pot is a great way to develop
teamwork skills
. Kids will cooperate and collaborate on what to contribute to the soup, and, for many, simply making space for one another around the pot is plenty of practice.
Even if they're cooking alone, making stone soup out of found materials flexes kids'
imaginations
. Once, a parent suggested that we use plastic carrots, potatoes, etc. so that kids "could do it just like in the story" -- but using prefab food toys actually minimizes the opportunity to use imagination to transform the natural objects around them into an endless list of ingredients.
Kids today are often shown exactly how stories should look and sound. Many of their toys also come with a specific way in which they are to be used, limiting the opportunities for creative and flexible in their thinking. Give your kids the chance to pretend, and you'll be helping them build the foundation for life as
creative thinkers
and lifelong learners.
Activities like this are also a gift to kids because, without them ever knowing, you provide kids with a recipe for
imaginative play
that works for them any time they are outdoors. With even the smallest trace of water and any container, kids will find a way to whip up batches of stone soup all on their own.
Try a Free Class
Two class formats: try a free In-Person session (where and when available) or try Tinkergarten Anywhere, our on-demand product available anytime.
In either format, a certified Tinkergarten Leader will teach a Tinkergarten lesson and inspire your kids to play.
Sample the additional activities and resources families get each week to keep kids learning outside at home.
Become or Recommend a Leader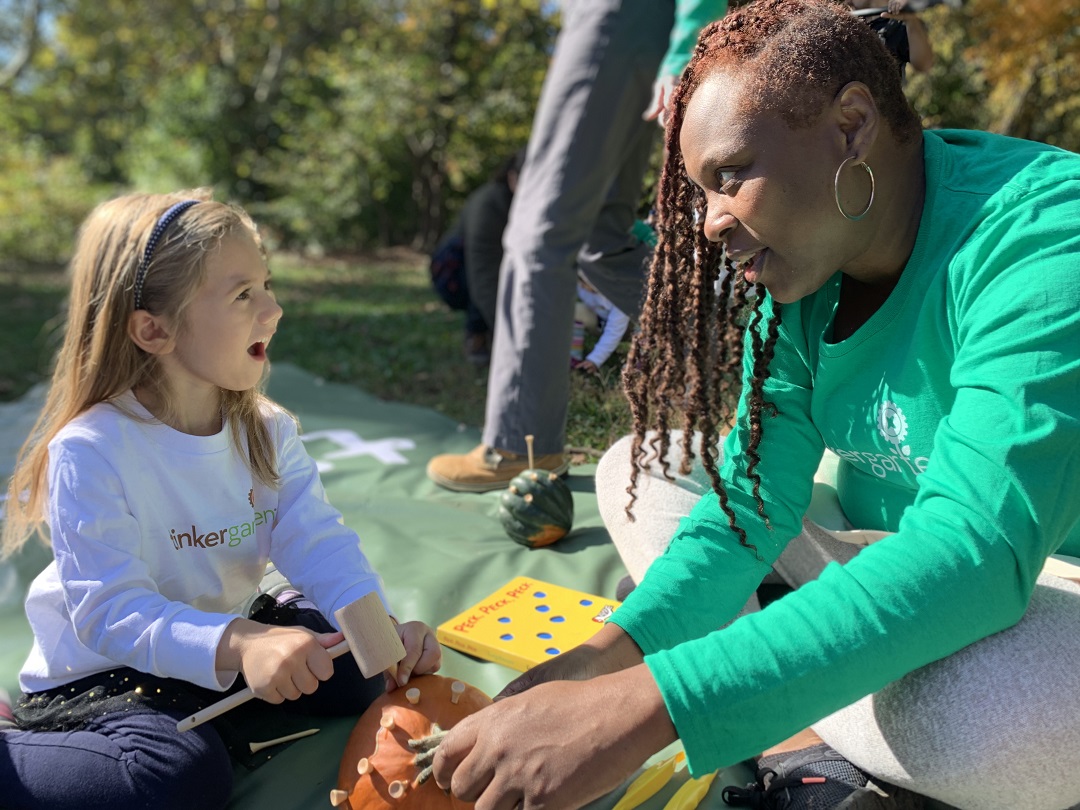 Help us bring Tinkergarten to your community.
Recommend people you think would make great Tinkergarten Leaders.
Maybe that's you!
Earn a $100 gift card to Amazon if your nominee becomes a Leader!