Gratitude Activity for Kids
The more kids can practice giving thanks, the easier and more natural expressing gratitude becomes for them. Given how many positive benefits we get from saying thanks, it's never too early to start giving kids those chances. Whether for Thanksgiving or any time of year, make a simple tree of thanks together, and bolster your family's gratitude practice—maybe even start a new family tradition!
The Guide
Gather materials: Identify a bucket, can or large vase to use as the base of your tree. Head outdoors and gather stones or gravel to fill and stabilize your base. Gather a handful of sticks from the yard to stick into the weighted bucket and form the branches of your tree. Incorporate other objects to help you create your own, unique tree.
Wittle the branches a bit: If you and your children are ready (we started when our girls were 2.5), you have the option to remove some of the bark to reveal the soft inner layers of each stick—quite lovely, but not necessary for a beautiful tree. We have had success using potato peelers as well as straight knives, but both require careful safety training, close but quiet guidance, and a leap of faith. Like Jeff Bezos, we see working with sharp tools as a valuable risk for our girls to take.
Prepare the leaves: Back inside, cut colorful paper into the shapes of leaves and poke holes so those leaves can slip onto the branches. As you are cutting, talk about things you might be thankful for. If you are going to welcome friends and family to participate, think about how you can display the leaves and how many pens you may need so everyone can contribute.
Set up: Set up the tree and lay out the leaves and pens. If your children are ready, encourage them to play teacher and explain how the tree works to everyone who will participate in making the tree. What great practice with collaboration and communication!
Share: Take time to read out the things everyone is grateful for on the tree. If you have a signal for "I agree," share affirmation for the various things shared, helping kids learn to be active listeners and reinforcing all of the goodness shared on the tree.
Why is this activity great for kids?
Gathering sticks and other nature materials taps into the "transporting schema," a universal behavior pattern that children exhibit and that experts associate with brain and body development. Making a tree from found objects together is also a marvelous exercise to support creative thinking. Taking time to do something special and symbolic together also reinforces family values and the importance of connecting and sharing with one another. If this becomes a tradition, the positive effects will persist and grow. Finally, children and adults alike receive a myriad of benefits from practicing gratitude.
Try a Free Class
Two class formats: try a free In-Person session (where and when available) or try Tinkergarten Anywhere, our on-demand product available anytime.
In either format, a certified Tinkergarten Leader will teach a Tinkergarten lesson and inspire your kids to play.
Sample the additional activities and resources families get each week to keep kids learning outside at home.
Become or Recommend a Leader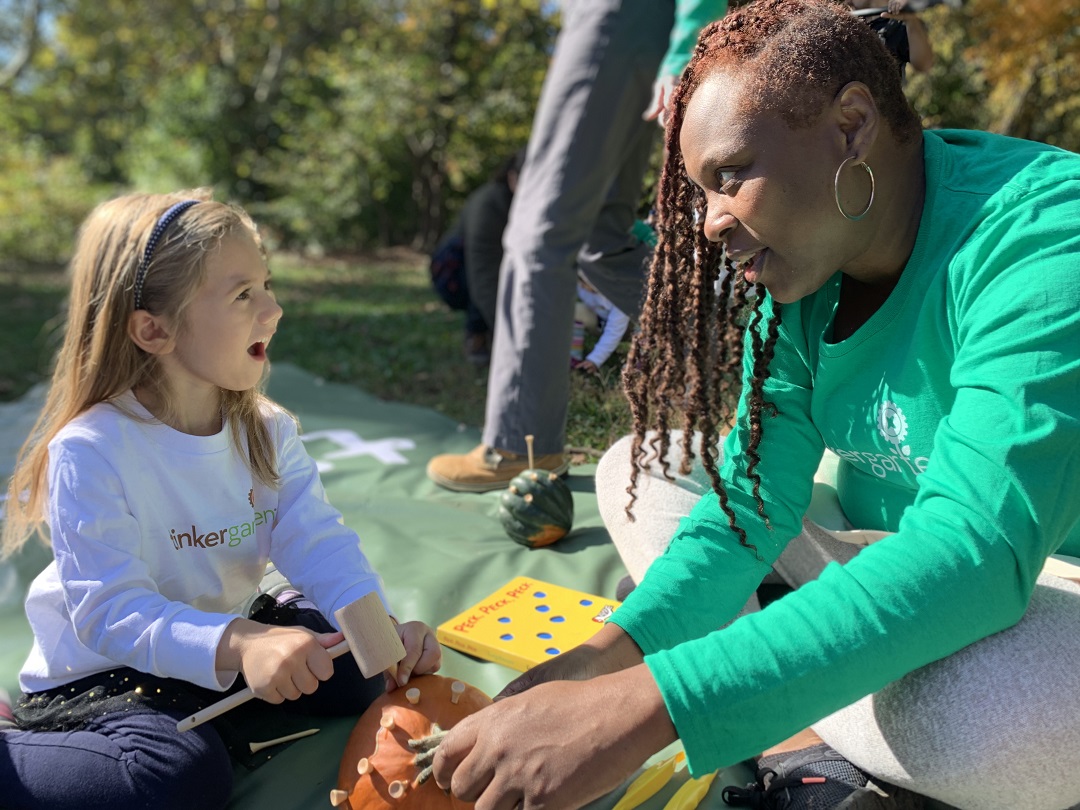 Help us bring Tinkergarten to your community.
Recommend people you think would make great Tinkergarten Leaders.
Maybe that's you!
Earn a $100 gift card to Amazon if your nominee becomes a Leader!