There's no better way to sense the magic of winter than a special hunt. Even though a "scavenger hunt" can feel really structured, there is power anytime you add the word "hunt" to a walk in the woods. So, the key is to add only a "pinch" of structure so kids can play the game in their own way. Even young explorers who are easily distracted can focus and make new discoveries when doing this simple twist on a hike. And, it really doesn't have to take too much prep if you use one of our Tinkergarten scavenger hunt sheets. If you feel creative, though, make up your own using words and pictures. Just be ready to get off the trail and keep up with your explorer when he or she is on the hunt!
The Guide
Get or make a set of clues: Download and print our Winter Scavenger Hunt (ideal for kids age 3 and up). If you like, tape the scavenger hunt clues to cardboard to make it easier for kids and more sturdy. Poke holes and tie string, and they can wear the around their necks...even easier (We've included hole guides on our sheets so you know where to poke).
Review the categories: Review the words and images and make sure everyone understands what we are keeping an eye, ear or nose out for.
Enjoy the hunt! You can hunt for one thing at a time or just walk about, noticing items as they appear to you. Most importantly, follow kids' lead and remember that just being present and using multiple senses is all that matters.
Set up Boundaries: If you want kids to be able to wander and hunt freely, set up boundaries and/or a rule to follow. Our stand-by rule is, "You can wander as far as you like, as long as you can still one of us."
Keeping track: Use a crayon or pencil to check each category as they find it to keep track of their progress. Some kids will love this. Other kids will want no part of writing or recording, but will prefer the thrill of the hunt. If you're in a group, cheer each time you find another category to engage everyone!
End whenever it's time: Kids need not complete the card in one outing—or ever, really. The process of looking, listening and sensing the world around them is the goal, so as long as they've gotten a chance to do just that, your mission is complete!
Why is this activity great for kids?
Nothing piques curiosity and inspires even wee kids to focus like a "hunt!" Kids will need to use several senses to find the variety of items and categories on a well-rounded scavenger hunt. It's amazing how having a challenge like a scavenger hunt inspires kids to pay closer attention to their surroundings. Searching for particular treasures will naturally build genuine curiosity about nature. Although the categories should remain rather concrete for kids ages 3 to 4, practice with grouping things helps them form the basis upon which they will learn to make connections between ideas, a most critical higher level thinking skill. Finally, the variety of categories in a hunt can really help kids realize the wide range of amazing creatures, plants and elements in the great outdoors.
Try a Free Class
Two class formats: try a free In-Person session (where and when available) or try Tinkergarten Anywhere, our on-demand product available anytime.
In either format, a certified Tinkergarten Leader will teach a Tinkergarten lesson and inspire your kids to play.
Sample the additional activities and resources families get each week to keep kids learning outside at home.
Become or Recommend a Leader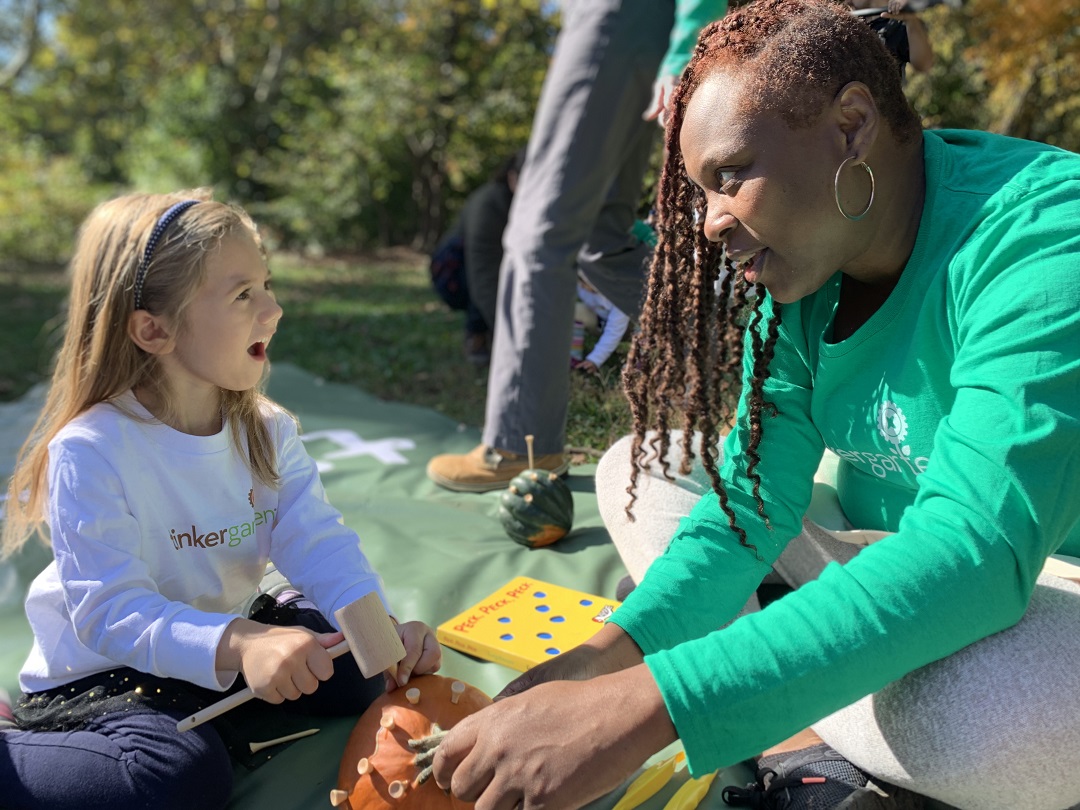 Help us bring Tinkergarten to your community.
Recommend people you think would make great Tinkergarten Leaders.
Maybe that's you!
Earn a $100 gift card to Amazon if your nominee becomes a Leader!